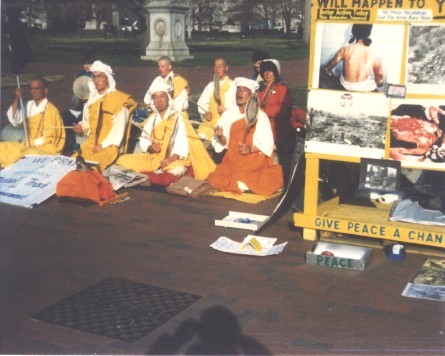 The White House Anti-Nuclear Vigil
is one of those constant reminders that
Free Speech
is alive and well in the United States of America: even in Washington. Or, is it?
The
"Regulations"
being
implemented
by the National Park Service have slowly, subtly, consistently pushed
the First Amendment
frontliners to the back of the park, away from the White House and the tourists, but
the Park Police
don't let up.
After Clinton's second Inauguration, we moved the signs back to the front of the White House, as we have done since Reagan's second term. The Park Police were rude, and said, "No, you can't move those signs until the supervisor gives the order."
Well, the signs were moved, but we have suffered constant harassment since then. The police have locked the bathrooms, and they watch every minute to see if I leave the signs. Thanks to
friends
, I do get a break occasionally; and the vigil goes on...