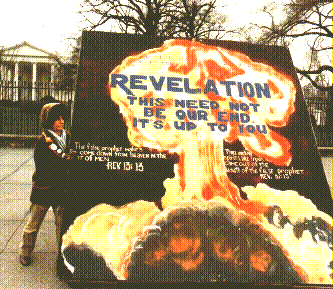 The Washington Times
THURSDAY, MAY 5, 1983

By David Sellers
Washington Times Staff
A federal judge yesterday struck down new National Park Service regulations that limit the activities allowed as part of demonstrations on the sidewalk in front of the White House.
U.S. District Judge William Bryant issued a temporary restraining order, explaining that he failed to find that an emergency existed and that federal officials should have allowed a 30-day comment period on the regulations instead of putting them into effect immediately.
"I don't think there's any justification for not having that 30-day period:' Bryant said. "There's no articulated exigency."
Although there are 20 days left in the comment period, Bryant's order is good for only 10 days. Lawyers for both sides acknowledged that they may be back before the court at a later date; but they said they would try to work out any differences among themselves.
Assistant U.S. Attorney John Bates said he was not certain whether his office would appeal Bryant's order.
The new regulations, implemented April 22, prohibit individuals from exhibiting placards or signs on the White House sidewalk unless the person holds them at all times.
---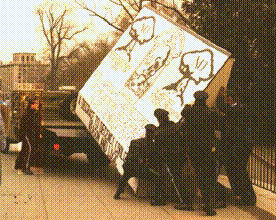 In spite of their resistance, the Park Police and the Secret Service won the battle, and the protesters were forced off the White House Sidewalk: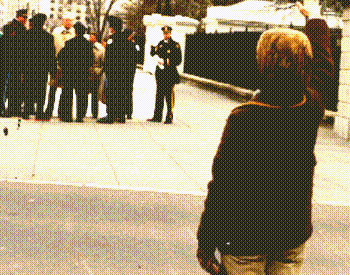 Concepcion salutes the Park Police, Hitler-style, as they take the signs away.
"It was disgraceful," she remembers.
Protesting on the White House Sidewalk had come to an end. A new way of life began for Thomas and Concepcion: