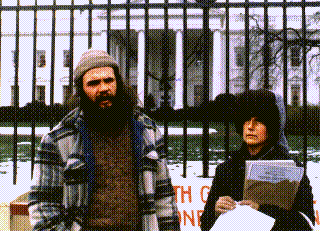 THE NORTH IRELAND TIMES
THURSDAY, AUGUST 8, 1985
Beaten, abused, living rough, they stand like some moral Maginot Line on a permanent White House peace vigil..
The man and the woman
-Concepcion Picciotto
and William Thomas - live under the stars, exposed to the rain and snow, summer and winter, without tent or sleeping bag. They feed like the pigeons and squirrels in the park, on what comes along, sometimes from the nearby McDonald's or Hardees bins.
It is a starkly contrasting picture in the capital of the world's greatest nation. On the south side, in the great mansion at 1600 Pennsylvania Avenue live Ronald and Nancy Reagan...across the street in Lafayette Park, without address or visible means of support, are Concepcion and William, with their messages of peace..